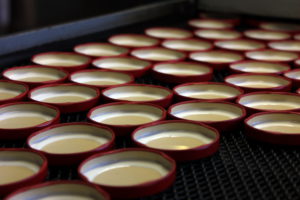 Our company offers Twist-off/lug caps Automatic production line.
Cap production equipment can produce twist-off caps with a capacity of up to 300 pcs per minute. The diameter of the manufactured covers – up to 100 mm.
The composition of the production line:
1. Automatic tin feeding machine
2. Arch press
3. Forming and pasting machine
4. Electromagnetic drying oven
5. Counter covers
Our equipment for the production of twist off caps made of tin is made of high-quality components and is of high quality and reliability.
In order to buy equipment for the production of tin caps twist off, please contact our specialists.
Please see work our equipment: https://www.youtube.com/watch?v=-AWNpW95Y0A