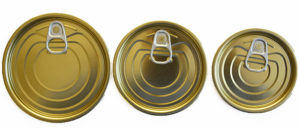 The easy-open Easy-open lid differs from a conventional lid in that it has an annular cut and a key, which makes it easy and convenient to open cans and eliminates the possibility of injury from a can opener or sharp edges.
This type of lid is most popular in the production of canned fish and animal feed.
One of the trends in the European market of rigid food packaging is an increase in the share of cans with easy-open lids in the total number of canned cans.
Our company offers a full range of lightweight covers. A wide range of our production allows us to meet the requirements of the most demanding customers.
To buy Easy-open, easy-open covers, please contact our specialists.